Prenatal Massage Singapore
Massage Your Pain and Discomfort Away During Pregnancy After First Trimester
Relaxing Prenatal Massage Home Service Benefits for Mums and Babies.
Home Prenatal Massage Singapore Deals from $168.
Prenatal Massage Packages
Home Prenatal or Pregnancy Massage for Every Tired Mother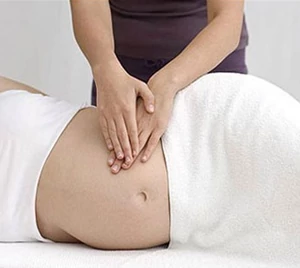 Prenatal massage is a wonderful therapy for mums during pregnancy. While post natal massage is designed for recovery after childbirth, home prenatal massage in Singapore is for pregnant women in preparation for delivery. The prenatal or pregnancy massage relieves discomforts, reduce stress and promote overall wellness. Most importantly, it allow mothers to deliver the baby with ease through relaxed muscles.
A pregnant woman suffers great tensions and pressures at the lower portion of the body due to the weight of the baby during pregnancy. Pregnancy massage enable an eased, and relaxed muscle to allow a smoother and easier flow of the blood vessels, proper breathing, and quick release of the baby from the womb. During the massage session, the pre-natal massage therapist positions the delicate baby in the womb to easily come out during the delivery process. It also helps form the physical and anatomical structure of the baby. If you want to have an easy and smooth normal delivery of your unborn child, prenatal massage home service is highly recommended for its many prenatal care benefits and convenience.
Prenatal Massage Prices
Now you can enjoy the same benefits of pregnancy massage in Singapore as spa at the comfort of your own home. Without the need to travel to spa, you can have more rest at the same time. Pricing is for home prenatal massage only.
| | |
| --- | --- |
| Prenatal Massage (Home) | Price |
| 1 Session (70 mins) | $168 |
| 3 Sessions (70 mins) | $360 |
| 12 Sessions (Prenatal + Post Natal Massage) | $1300 |
* Quoted rates includes transport cost (Singapore Mainland).
* Additional surcharge applicable for prenatal massage service at Sentosa Island.
* We would use your home bed. Please prepare mattress and 2 big towels.
* Not recommended if mummy have high blood pressure or skin sensitive.
Who Needs Pregnancy Massage?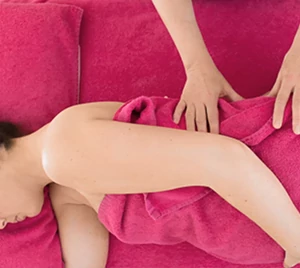 Pregnancy massage is beneficial for pregnant women who are easily tired and face problems like water retention, back pain, headache, leg cramps, sore legs or swollen feet. If you have difficulty breathing, always anxious and experience insomnia, you really need to relax yourself. The pre-natal massage service is suitable for all three trimesters but it is recommended after the first trimester.
Home prenatal massage is specially designed focusing on the changing needs of pregnant ladies. It is highly recommended that one should opt for only experienced massage therapists for getting a pre-natal massage done. This therapy focuses on increasing blood circulation, easing aches, reducing pains, and promoting relaxation for pregnant women.
Prenatal Massage Benefits
With safe pregnancy massage techniques, pregnant women are able to enjoy the following benefits of pregnancy massage therapy at home:
Ability to cope with stress better.
Relaxation of muscle tension.
Reduction in body pain.
Relieves neck and back pain.
Enhances sleep where insomnia, sleep disorders are taken care of.
Improves blood circulation.
Increase body energy levels.
Improves immunity.
Reduce water retention.
Prevent stretch mark.
Elimination of toxins from the body.
Alleviation of swellings from the body.
Helps in fighting various diseases.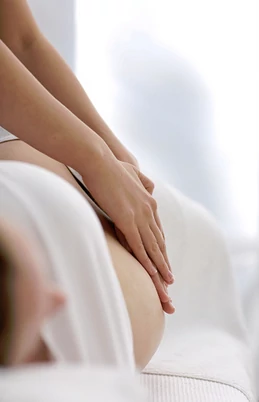 Frequently Asked Questions
Is pregnancy massage suitable for everyone even if i have conditions such as high blood pressure?

Pregnant women with high blood pressure, elderly multigravida, geriatric pregnancy or advanced maternal age (35 years old and above) due to high risk pregnancy are advised not to take up pregnancy massage.

Do I have to book confinement nanny services as well in order to enjoy the massage promotion?

No, you are not required to do that in order to enjoy the massage promotion deals.

Are your massage therapists trained, certified and can i request only female masseurs for all my sessions ?

Yes they are. Our massage therapists are well trained and WSQ certified. We don't have male masseurs. All our masseurs are female.

When can i start my pregnancy massage?

Pregnancy massage is recommended after the first trimester or during your 5 to 8 months pregnancy.

Which period should i avoid doing prenatal massage?

You will need more sessions when closer to your EDD as it helps easier delivery. However, not recommended 1 week before the EDD.

Do I need to prepare anything before any session?

Please prepare your own mattress and 2 big towels. Otherwise, $30 surcharge is applicable for providing the towels.

How many days in advance is required to book the pregnancy massage sessions?

3 days advance appointment for pregnancy massage is possible subjected to the availability of our therapists. Otherwise, 1 week advance notice is preferred.

What is the frequency? Daily or weekly?

It depends on how tired or in pain you are. Can be once or twice a week.

How long is each prenatal session? What does it include?

Each prenatal massage session is 70min. Price includes transport cost and massage oil. Please prepare bed and 2 big towels for masseur during session.

Where does the massage take place? 

You can enjoy massage at the comfort of your home.

If masseur is not suitable, can we replace? Any additional cost?

Yes you can request for another masseur. There is no additional cost.

If baby is born earlier than expected, can the remaining unused sessions be refunded?

We only have 1 session at $98 or 12 sessions for prenatal / post natal. Therefore, if you book 12 sessions, you can use as many sessions as you need during pregnancy and the remaining sessions for postpartum.

 
We Look Forward To Hearing From You!
Want to book your massage session or have enquiries? Contact Us with the form below.
Very relaxing! Able to have a good night sleep after the massage. Thank you!
Loving it! Always longing for my next massage appointment to come quick!
Yes I will certainly recommend pre natal massage to any mummy. You will need it. Trust me.
Excellent service! Highly recommended!
So refreshing after every treatment! Try it!