Confinement Nanny Work Permit Singapore
For Stay In Nanny or Day Time Confinement Nanny
Request for Quotation
Apply Work Permit for Confinement Nanny?
A valid confinement nanny work permit is required by Ministry of Manpower (MOM) for all Malaysian confinement nannies in order to be permitted to work legally in Singapore. This is regardless if she is a freelance confinement nanny or from agency. In view of COVID-19 pandemic, approval for confinement nanny work permit is very limited except if the Malaysian nannies are currently working in Singapore. In order to minimize the risk and further spread of coronavirus, Singapore has implemented Circuit Breaker from 7 April to 1 June 2020. Malaysia Movement Control Order (MCO) is currently extended to 9 June since the first implementation on 18 March 2020.
You do not need to visit MOM Services Centre for advisory and transaction services. Apply work permit for confinement nanny to MOM can be by done online by confinement nanny agency or yourself through eServices. The permit approval period is within 14 days. MOM temporary work permit for confinement nannies can be issued up to a maximum of 16 weeks starting from your child's date of birth.
The application fees per submission of work permit application is $35. Normally there is no fees to extend visit pass. However, due to COVID-19, additional $40 is required to extend the visit pass of nanny if she is in Singapore for more than 3 months since her first day of entry.The levy fee to hire a foreign confinement nanny is $60 per month for Singaporean or $300 per month for non-Singaporean. Monthly MOM confinement nanny work permit levy is mandatory as similar to Foreign Domestic Workers (FDW). Unlike S Pass which require minimum salary to be at least $2,200 a month to qualify, there is no salary requirement for confinement lady. You, as the employer or your appointed confinement lady agency can apply for mom work permit extension and cancellation if required. Although there are guidelines to follow on how to apply work permit for confinement nanny, parents will often have the following concerns:
Do i need to apply temporary work permit for Malaysian freelance confinement nannies if i engage them myself?
Are they experience and reliable? Can i trust them?
Do they really know how to take care of my confinement period?
Will my confinement lady really turn up after i placed my deposit fees?
What can i do if the confinement lady is hard to get along?
Yes. These are the common questions you will be worrying if you decide not to engage any professional confinement nanny agency. Many new parents may have heard of colleagues, friends advising them that they did not apply confinement nanny work permit previously during their confinement period. They only ask for contacts from referrals or from forum. If the nanny require extension of stay, they only need to go back to custom for re-entry. Why pay extra for agency fees and government levy? However, it is important to ensure your nannies have a valid work permit and visit pass in this current covid-19 situation. Failure to comply may result in fines and penalties or restriction in privileges.
Illegal Employment
People may be unaware that it is an offence for any foreigner to work in Singapore without an authorised mom work permit. It is stated under the Employment of Foreign Manpower Act (EMFA) (Cap. 91A) that no foreigner who comes to Singapore as tourist or social visiting with a visit pass is allowed to work, regardless paid or unpaid. It will be treated as work pass infringement. The offender (employing foreigner without any valid work pass) will need to pay a severe fine between SGD5000 to SGD30,000 or charge for imprisonment for up to one year or being charged for both. More details regards to the penalties for common offences can be found at MOM website.
Confinement Nanny Temporary Work Permit Guidelines
If you decide to hire confinement nanny from Malaysia, you can apply the temporary work permit by yourself as the employer or through your appointed employment agency. MOM Guidelines states that application submission should be done not more than 1 month or 4 weeks before EDD or expected date of delivery of baby. The validity date for the temporary work permit is limited. Confinement nanny work permit is issued commencing from your child's date of birth for a short term duration up to maximum of 16 weeks. The validity date will be shorter if the application is applied after the child is born. Therefore, the employers or parents for newborns of age more than 4 months are advised not to employ confinement nanny from Malaysia. There is also a certain criteria for both nannies and parents (employers) to meet before hiring.
Confinement Nanny Work Permit Extension
Work permit for confinement nanny can be extended or renew based on 2 conditions. You can extend confinement lady's stay if the duration of the single-entry visit pass is lesser than the required employment period for her work permit or she has to leave Singapore during the employment period. You can apply for confinement nanny work permit extension by yourself or through your appointed confinement nanny agency.
Cancel Confinement Nanny Work Permit
It is important for employer to note that before the expiry of the single-entry visit pass, the confinement nanny has to leave Singapore. The employer (if you are hiring by yourself) or your appointed licensed employment agent have to cancel the work permit of the confinement lady if her work permit expires or her employment ended even before it expires. The levy will be charged until the eve of the cancellation.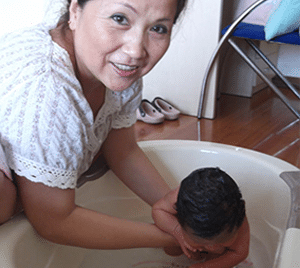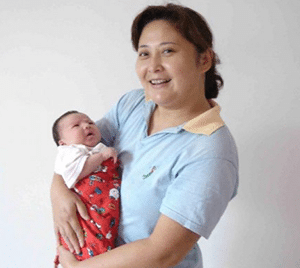 Eligibility Criteria for Employer
Age at least 21 years old
Able to pay monthly levy fees
Applying for newborn below 4 months old
Eligibility Criteria for Confinement Nanny
Female Malaysian
Age between 23 years to 70 years old
Working at employer's residence only (Not allowed to work for other employers)
Medical Insurance For Confinement Nanny
Not mandatory for medical examination but advisable for parents or employers to send confinement nanny for medical checkup.
Buying medical insurance for confinement nanny is required in case of any mishaps (at least SGD 15,000). Your insurance agent will be the best person to advise on coverage.
You as the employer, will be responsible for the well being of the nanny under the conditions and regulations of Employment of Foreign Manpower.
Employers are encouraged to learn what are the medical insurance policies available for the nanny from the agents.
When To Apply Permit
4 weeks before EDD or expected date of birth.
However, you would not be able to apply permit if nanny has a valid permit with other employer at the time of your application.
Application Processing Time
Online: 1 working day to process and approve unless more information is needed.
Manual: 5 working days.
Levy Charges and Fees By MOM
Application Fees: SGD $35
Singapore citizen baby (either monthly or daily levy):

Monthly levy fee: SGD $60
Daily levy rate: SGD $1.98

Non-Singapore citizen baby (either monthly or daily levy):

Monthly levy fee: SGD $300
Daily levy rate: SGD $9.87
Frequently Asked Questions
How do i get a nanny visa?
In order for Malaysian confinement lady to work in Singapore legally, you only need to get a work permit for confinement nanny. However, please note nanny is still subjected to the Immigration Regulations and disallowed entry even if she has an approved work permit. Once nanny is at the Immigration counter, she needs to submit a completed Disembarkation/Embarkation Card (D/E Card) to the ICA officer. This D/E card is the same card which every visitor has to fill up when they visit Singapore for immigration clearance. This D/E card is also the same Visit Pass or Social Visit Pass that is regularly mentioned in the nanny permit application for confinement.
The ICA officer will keep the disembarkation portion and return the embarkation portion of the card to the nanny. It is very important to take note of the chopped stamp on this embarkation card as it indicate the number of days the nanny is permitted to stay in Singapore. Normally it is thirty days from the entry date for social visit. Sometimes it can be as less as 2 or 7 days. You need to help nanny to extend this Visit Pass online if the last day of her employment is later than the duration indicated on the Visit Pass. Otherwise, she has to leave the custom for re-entry. Penalties such as overstaying fine or bar from entry to Singapore may be imposed should this be neglected.
In summary, you need to take care and get the following in order for Malaysian nanny to work in Singapore:
Confinement nanny work permit.
Visit pass.
Insurance (Optional but recommended).
Do I need to buy insurance for confinement nanny?
Unlike domestic helper's permit application, insurance for confinement nanny is not required at the point of application. However, as advised by MOM, you are recommended to buy medical insurance with a coverage of at least $15,000 per year to cover your nanny during her employment period.
Where can i buy confinement nanny insurance?
There is no insurance specifically for confinement nanny for a month coverage. You have to buy under the insurance scheme for domestic helper from your insurance agencies. 
What else is needed besides applying work permit for confinement nanny to work in Singapore?
Besides the written consent and work permit, you have to ensure she has a valid Visit Pass to stay in Singapore. This is very important which many first time employers or freelance confinement nannies are not aware of. Not only an overstaying fine may be imposed, it will also affect her future entry into Singapore. Getting a work permit alone is not sufficient. A work permit only permit her to work in Singapore legally but it does not guarantee her stay.
The duration of the Visit Pass is normally a month or less upon entry at Immigration. Even if you have an approved work permit for 42 days, you still need to check and extend her Visit Pass if it is lesser than the employment period. You are advised to ask for an extension at least 2 weeks before her Visit Pass expires.
It is advisable to check her Visit Pass as well even if you only employ her for normal 28 days confinement. This is because the nanny may be already in Singapore visiting her families or previous employers before she start work at your place.
When does mom levy start to charge?
MOM levy fee will be charged from the date that you have indicated as nanny's start work date in the work permit. The levy rate that you have to pay will be accumulated daily until the employment expired or cancelled. The expiry date is the end date indicated in work permit. The cancelled date is the termination request to MOM if you decide to end nanny's employment early. Otherwise, the work permit will be cancelled automatically after the expiry date. Similar to foreign domestic helper's levy payment, MOM will bill and send you notification for payment after end of each month instead of after her employment end.
How do I pay my confinement nanny levy?
Mom levy rate for Singapore citizen baby is S$1.98 daily or S$60 a month. The levy rate for non-Singapore citizen baby is S$9.87 daily or S$300 a month. You can check and pay your confinement nanny's levy at mom website: https://www.mom.gov.sg/eservices/services/check-and-pay-levy
Why do i need to pay mom levy fees again?
Levy can be a one time, twice or more payment as it is dependable on the start date of nanny's employment and the duration of the employment period. MOM will bill S$1.98 or S$9.87 daily, sending you notification for payment after end of each month and not until her employment end. You should total up all the payment bills, which the correct amount you need to pay should not exceed S$60 or S$300 if you only hire nanny for 28 days. Otherwise you need to call MOM at 64385122 if you think you need a clarification or correction on the payment amount. Do note that you will need to pay mom levy fees within the given time frame as a fine for late payment may be imposed.