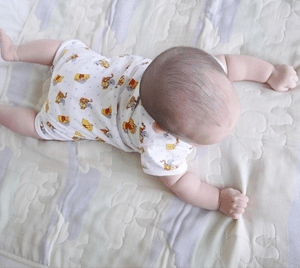 Because of the tremendous concern and publicity regarding sudden infant death syndrome (SIDS), many babies spend little or no time lying on their stomachs. This is unfortunate because the time an infant spends on his tummy helps develop shoulder and arm strength; decreases the chance of developing a flattened or irregular shaped head, and promotes crawling and rolling skills.
In order to provide tummy time and still protect your baby from SIDS, experienced babysitters would recommend starting at around two months of age, placing your baby on her stomach for a short period of time during each awake cycle. At first, she may only be able to tolerate it for a minute or two, but she will soon be comfortable being on her stomach for longer periods of time. Babysitter will then increase the baby's enjoyment of her tummy time by varying her views and by placing toys both within and just outside of her reach. Another babysitter's tip is to take a rolled up bath towel or a nursing pillow and place it under baby's arms. This will prop her up expanding her view of the world.
NannySOS provides daytime nanny and part time babysitters in Singapore. If you require babysitting services from NannySOS agency, more details are available in our website.