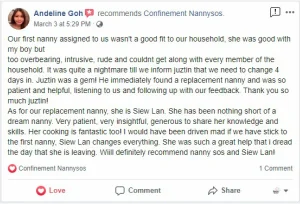 Confinement lady Review for Sew Lan:
Our first nanny assigned to us wasn't a good fit to our household, she was good with my boy but too overbearing, intrusive, rude and couldn't get along with every member of the household. It was quite a nightmare till we inform juztin that we need to change 4 days in. Juztin was a gem! He immediately found a replacement nanny and was so patient and helpful, listening to us and following up with our feedback. Thank you so much juztin!
As for our replacement nanny, she is Sew Lan. She has been nothing short of a dream nanny. Very patient, very insightful, generous to share her knowledge and skills. Her cooking is fantastic too! I would have been driven mad if we have stick to the first nanny, Sew Lan changes everything. She was such a great help that i dread the day that she is leaving. Will definitely recommend nanny sos and Sew Lan!
Culinary Skill: Very Good.
Communication Skill: Very Good.
Baby Care Skill: Very Good.
Mummy Care Skill: Very Good.
Cleanliness: Very Good.
Friendliness: Very Good