Confinement lady Review for Keow Eng: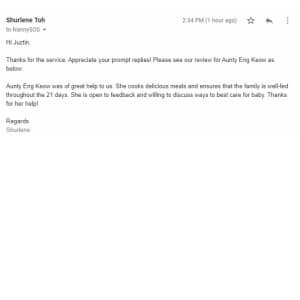 Thanks for the service. Appreciate your prompt replies! Please see our review for Aunty Keow Eng as below:
Aunty Eng Keow was of great help to us. She cooks delicious meals and ensures that the family is well-fed throughout the 21 days. She is open to feedback and willing to discuss ways to best care for baby. Thanks for her help!
Culinary Skill: Very Good.
Communication Skill: Good.
Baby Care Skill: Very Good.
Mummy Care Skill: Very Good.
Cleanliness: Very Good.
Friendliness: Very Good