Confinement Nanny Review Singapore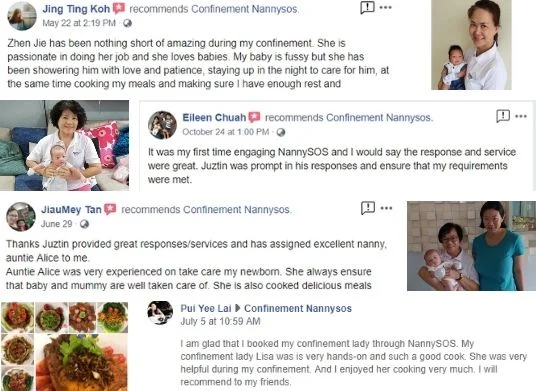 NannySOS confinement nanny review for your consideration for your search of a good confinement lady in Singapore. If you are considering freelance confinement nanny through friend's recommendation or agency in Singapore, do search for NannySOS confinement nanny agency review in facebook as well. Hear what mothers, fathers are talking about us after engaging our services and nannies. Our services include 24hr stay in nanny, part time, stay out or day time confinement nanny to take care new born baby and mummies. You can also consider some of our confinement nanny recommendation that we have prepared for you. To find out more on our post natal care services and confinement nanny price, please email us at admin@nannysos.com.sg or call 68172479.
NannySOS assigned an experienced confinement nanny, Angel, to us as we requested. She took good care of our newborn and cooked nutritious dishes for a speedy postpartum recovery. As our newborn was on breast milk, Angel ensured that the baby was fed every 2-3 hours at night. She also helped organise and tidy the kitchen to store all the confinement ingredients and herbs, as well as kept our house neat and clean. Angel is a wealth of knowledge including on foods to eat and to avoid in the first few weeks to ensure a proper recovery as well as important tips on caring for a newborn. Kudos to NannySOS who keep a good roster of experienced, quality nannies.
Thankful and grateful to have aunty Ah You with us. She took care of almost everything during her stay w us. She cooked yummy dishes for me daily and took good care of my baby. She did not just taught us the basic but went the extra mile on imparting her other knowledge to us, as first time parents that so important to us. We are very grateful to have her around. The love she given to our family is much appreciated. Thank you once again,aunty Ah You.
– Adeline Low, 29 Dec 2020
Just wanted to offer our thanks and appreciation to our nanny Mi Ling who was dutiful in taking care of both baby and me. Apart from daily nutritious meals, Mi Ling was also resourceful in finding ingredients around my house (like bird's nest and abalone) to make delicious meals too. She also made sure I had sufficient rest and time to recuperate, even though we could see she was tired on some days. She also let my baby nap with her in the afternoon so I could rest. Thanks again Mi Ling. Thanks also Juztin for your prompt replies each time I had queries.
– Wendy Teo, 11 Dec 2020
It was my first time engaging NannySOS and it was a very pleasant and smooth experience with Juztin, who was very prompt and helpful. Our nanny, Xiao Ling, is very experienced, kind and easy going. She takes care of the baby well and is meticulous in recording the baby's daily activities. In addition, she is a very good cook and provides awesome soups & well-balanced meals for us. Thank you for being a great help!
– Zhang Bishan, 1 Jan 2021
Want to thank Juztin for making the administrative process of hiring a nanny so smooth , helping me find a nanny when baby came out 3 weeks early, and even one that got along well with my precious dog. Our nanny aunty Lillian was our life saver being first time parents, we are so sad to have her go. She has helped us grow our small baby into a double chinned healthy boy. She is meticulous, always ensuring meals are ready, pump parts and bottles are cleaned and ready for use. She taught me that patience is really key in handling my baby. She is also caring and respectful to me. Really hope to see her again, especially if we have number 2!
We are very thankful to have Jecca with us during the confinement period she has been a good help, a good mentor and definitely a good friend! Jecca is very detail oriented and tends to attend to every single details with care. She is always willing to share all her experiences with us and these helps us a lot. Jecca is very professional and takes the responsibilities of taking care the baby and myself very seriously. She always strive to deliver the best in whatever she do. We will definitely recommend her as the number 1 choice nanny!
– Kathleen Peh, 8 Dec 2020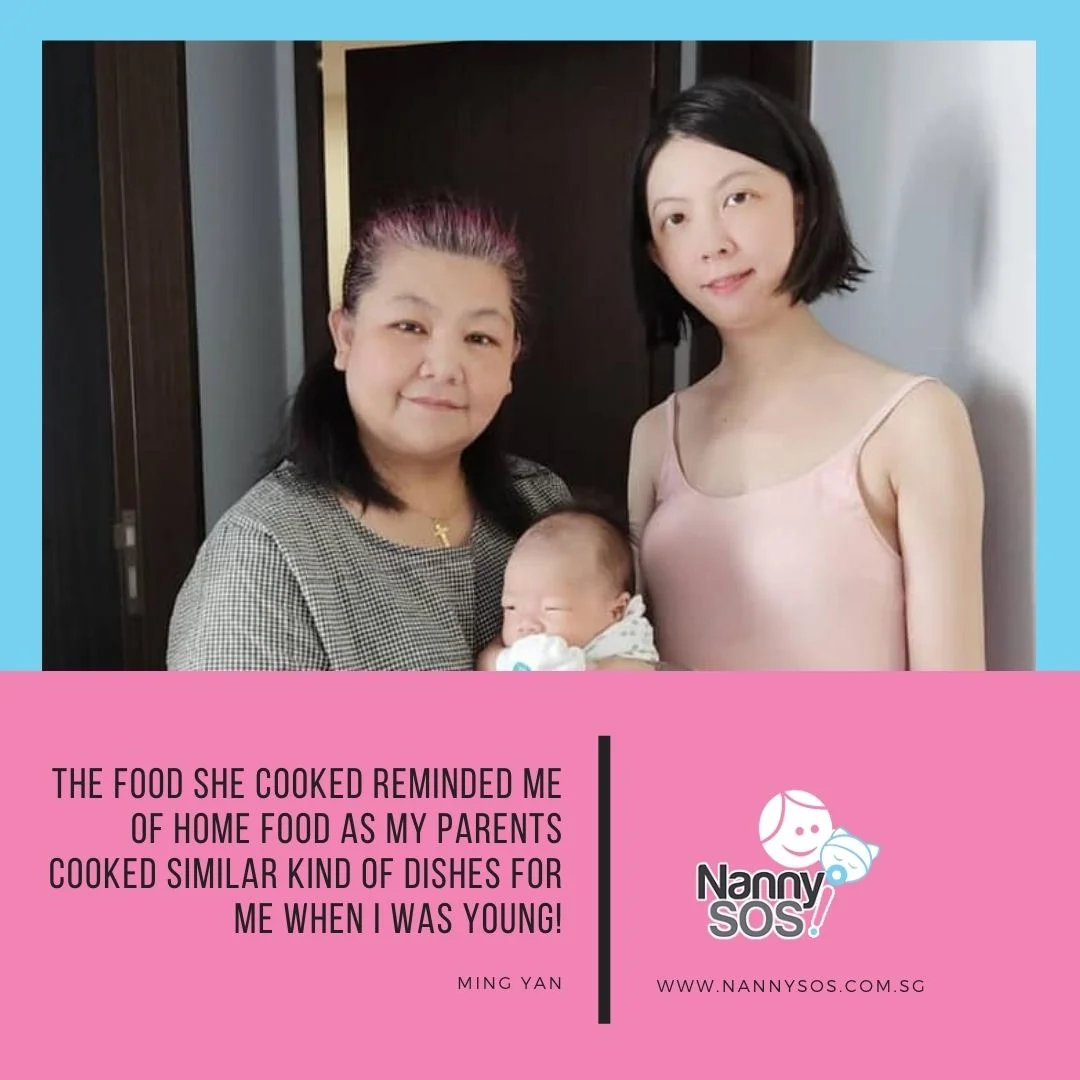 Confinement nanny Review for Kelly: I'm really super thankful to NannySOS for finding a confinement nanny for me during phase 2, with all the restrictions and guidelines in place. I was worried about the SHN and swab tests being high, but I'm glad that I didn't have to pay that full amount as I went through NannySOS.   Kelly is a really experienced nanny and took great care of baby...
read more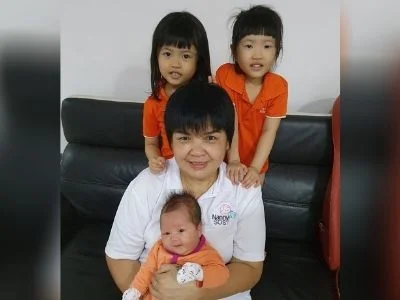 Confinement nanny Review for Toh Nyok Ming: We would like to thanks Justin for his help during this difficult period to help us get a confinement nanny. He is very on the ball with all our enquiries and always took the initiative to update us on nanny status (SHN). I would also like to thanks him for getting us a good nanny which makes my confinement a breeze.   My nanny Toh Nyok Ming...
read more