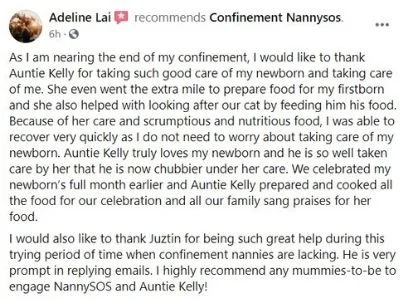 Confinement Nanny Review for Kelly:
As I am nearing the end of my confinement, I would like to thank Auntie Kelly for taking such good care of my newborn and taking care of me. She even went the extra mile to prepare food for my firstborn and she also helped with looking after our cat by feeding him his food. Because of her care and scrumptious and nutritious food, I was able to recover very quickly as I do not need to worry about taking care of my newborn. Auntie Kelly truly loves my newborn and he is so well taken care by her that he is now chubbier under her care. We celebrated my newborn's full month earlier and Auntie Kelly prepared and cooked all the food for our celebration and all our family sang praises for her food.
I would also like to thank Juztin for being such great help during this trying period of time when confinement nannies are lacking. He is very prompt in replying emails. I highly recommend any mummies-to-be to engage NannySOS and Auntie Kelly!