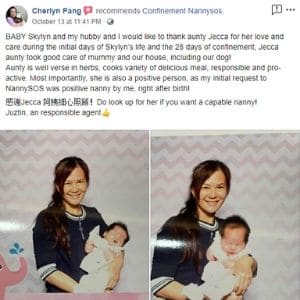 Confinement nanny Review for Jecca:
BABY Skylyn and my hubby and I would like to thank aunty Jecca for her love and care during the initial days of Skylyn's life and the 28 days of confinement, Jecca aunty took good care of mummy and our house, including our dog!
Aunty is well verse in herbs, cooks variety of delicious meal, responsible and pro-active. Most importantly, she is also a positive person, as my initial request to NannySOS was positive nanny by me, right after birth!
感谢Jecca 阿姨细心照顾!Do look up for her if you want a capable nanny!
Juztin, an responsible agent!
Culinary Skill: Very Good.
Communication Skill: Very Good.
Baby Care Skill: Very Good.
Mummy Care Skill: Very Good.
Cleanliness: Very Good.
Friendliness: Very Good