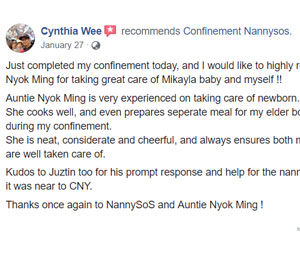 Confinement nanny Nyok Ming's Reviews:
Just completed my confinement today, and I would like to highly recommend Auntie Nyok Ming for taking great care of Mikayla baby and myself !!
Auntie Nyok Ming is very experienced on taking care of newborn.
She cooks well, and even prepares separate meal for my elder boy when he fell sick during my confinement.
She is neat, considerate and cheerful, and always ensures both mother and baby are well taken care of.
Kudos to Juztin too for his prompt response and help for the nanny arrangement as it was near to CNY.
Thanks once again to NannySoS and Auntie Nyok Ming !
Culinary Skill: Very Good.
Communication Skill: Good.
Baby Care Skill: Very Good.
Mummy Care Skill: Very Good.
Cleanliness: Very Good.
Friendliness: Very Good