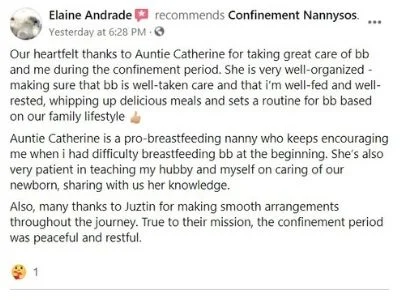 Our heartfelt thanks to Auntie Catherine for taking great care of bb and me during the confinement period. She is very well-organized – making sure that bb is well-taken care and that i'm well-fed and well-rested, whipping up delicious meals and sets a routine for bb based on our family lifestyle
Auntie Catherine is a pro-breastfeeding nanny who keeps encouraging me when i had difficulty breastfeeding bb at the beginning. She's also very patient in teaching my hubby and myself on caring of our newborn, sharing with us her knowledge.
Also, many thanks to Juztin for making smooth arrangements throughout the journey. True to their mission, the confinement period was peaceful and restful.