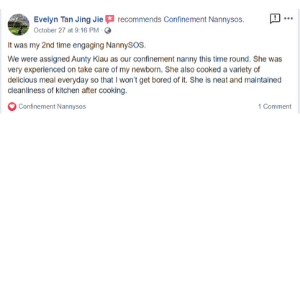 Confinement nanny Review for Kiau:
It was my 2nd time engaging NannySOS.
We were assigned Aunty Kiau as our confinement nanny this time round. She was very experienced on take care of my newborn. She also cooked a variety of delicious meal everyday so that I won't get bored of it. She is neat and maintained cleanliness of kitchen after cooking.
Culinary Skill: Very Good.
Communication Skill: Very Good.
Baby Care Skill: Very Good.
Mummy Care Skill: Very Good.
Cleanliness: Very Good.
Friendliness: Very Good