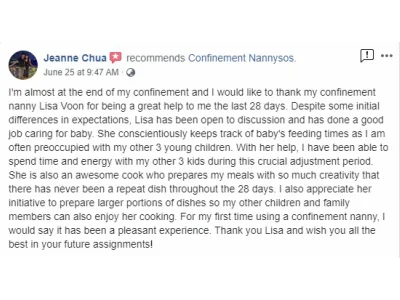 Confinement nanny Review for Lisa:
I'm almost at the end of my confinement and I would like to thank my confinement nanny Lisa Voon for being a great help to me the last 28 days. Despite some initial differences in expectations, Lisa has been open to discussion and has done a good job caring for baby. She conscientiously keeps track of baby's feeding times as I am often preoccupied with my other 3 young children. With her help, I have been able to spend time and energy with my other 3 kids during this crucial adjustment period. She is also an awesome cook who prepares my meals with so much creativity that there has never been a repeat dish throughout the 28 days. I also appreciate her initiative to prepare larger portions of dishes so my other children and family members can also enjoy her cooking. For my first time using a confinement nanny, I would say it has been a pleasant experience. Thank you Lisa and wish you all the best in your future assignments!
Culinary Skill: Very Good.
Communication Skill: Very Good.
Baby Care Skill: Very Good.
Mummy Care Skill: Very Good.
Cleanliness: Very Good.
Friendliness: Very Good