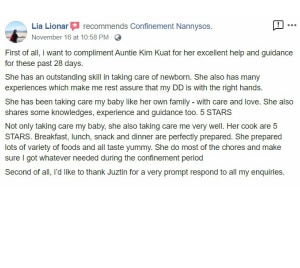 Confinement nanny Review for Kim Kuan:
First of all, i want to compliment Auntie Kim Kuan for her excellent help and guidance for these past 28 days.
She has an outstanding skill in taking care of newborn. She also has many experiences which make me rest assure that my DD is with the right hands. She has been taking care my baby like her own family – with care and love. She also shares some knowledge, experience and guidance too. 5 STARS!
Not only taking care my baby, she also taking care me very well. Her cook are 5 STARS. Breakfast, lunch, snack and dinner are perfectly prepared. She prepared lots of variety of foods and all taste yummy. She do most of the chores and make sure I got whatever needed during the confinement period. Second of all, i'd like to thank Juztin for a very prompt respond to all my enquiries.
Culinary Skill: Very Good.
Communication Skill: Good.
Baby Care Skill: Very Good.
Mummy Care Skill: Very Good.
Cleanliness: Very Good.
Friendliness: Very Good