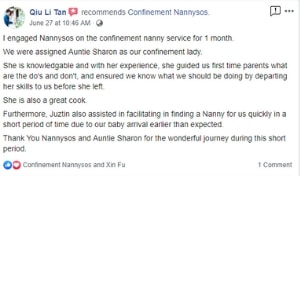 Confinement nanny Review for Sharon:
I engaged Nannysos on the confinement nanny service for 1 month. We were assigned Auntie Sharon as our confinement lady. She is knowledgeable and with her experience, she guided us first time parents what are the do's and don't, and ensured we know what we should be doing by departing her skills to us before she left. She is also a great cook. Furthermore, Juztin also assisted in facilitating in finding a Nanny for us quickly in a short period of time due to our baby arrival earlier than expected.
Thank You Nannysos and Auntie Sharon for the wonderful journey during this short period.
Culinary Skill: Very Good.
Communication Skill: Very Good.
Baby Care Skill: Very Good.
Mummy Care Skill: Very Good.
Cleanliness: Very Good.
Friendliness: Very Good