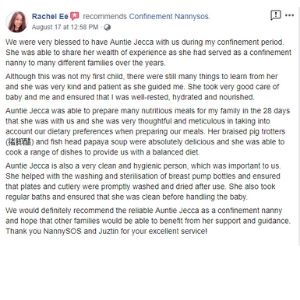 Confinement nanny Review for Jecca:
We were very blessed to have Auntie Jecca with us during my confinement period. She was able to share her wealth of experience as she had served as a confinement nanny to many different families over the years.
Although this was not my first child, there were still many things to learn from her and she was very kind and patient as she guided me. She took very good care of baby and me and ensured that I was well-rested, hydrated and nourished.
Auntie Jecca was able to prepare many nutritious meals for my family in the 28 days that she was with us and she was very thoughtful and meticulous in taking into account our dietary preferences when preparing our meals. Her braised pig trotters (猪脚醋) and fish head papaya soup were absolutely delicious and she was able to cook a range of dishes to provide us with a balanced diet.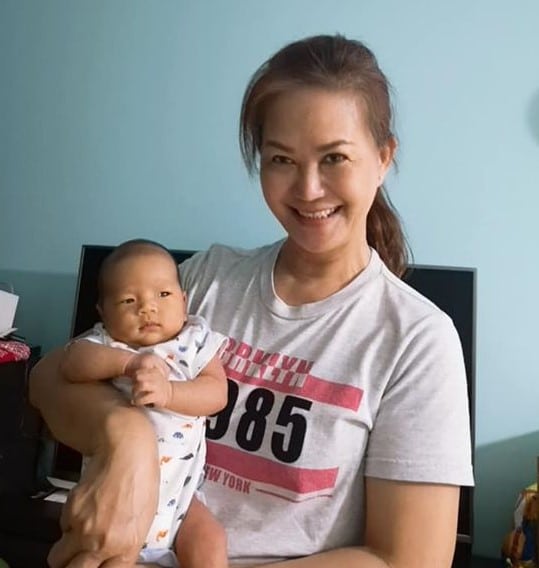 Auntie Jecca is also a very clean and hygienic person, which was important to us. She helped with the washing and sterilization of breast pump bottles and ensured that plates and cutlery were promptly washed and dried after use. She also took regular baths and ensured that she was clean before handling the baby.
We would definitely recommend the reliable Auntie Jecca as a confinement nanny and hope that other families would be able to benefit from her support and guidance. Thank you NannySOS and Juztin for your excellent service!
Culinary Skill: Very Good.
Communication Skill: Very Good.
Baby Care Skill: Very Good.
Mummy Care Skill: Very Good.
Cleanliness: Very Good.
Friendliness: Very Good