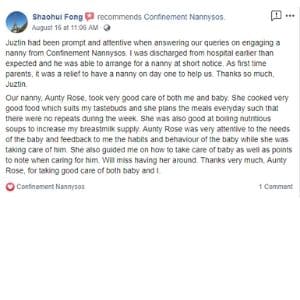 Confinement nanny review for Rose:
Juztin had been prompt and attentive when answering our queries on engaging a nanny from Confinement Nannysos. I was discharged from hospital earlier than expected and he was able to arrange for a nanny at short notice. As first time parents, it was a relief to have a nanny on day one to help us. Thanks so much, Juztin.
Our nanny, Aunty Rose, took very good care of both me and baby. She cooked very good food which suits my taste buds and she plans the meals everyday such that there were no repeats during the week. She was also good at boiling nutritious soups to increase my breast milk supply. Aunty Rose was very attentive to the needs of the baby and feedback to me the habits and behavior of the baby while she was taking care of him. She also guided me on how to take care of baby as well as points to note when caring for him. Will miss having her around.
Thanks very much, Aunty Rose, for taking good care of both baby and I.
Culinary Skill: Very Good.
Communication Skill: Very Good.
Baby Care Skill: Very Good.
Mummy Care Skill: Very Good.
Cleanliness: Very Good.
Friendliness: Very Good