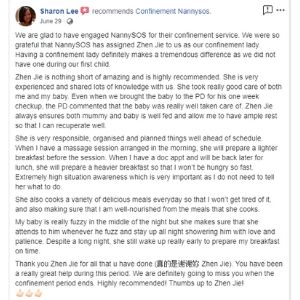 Confinement nanny Review for Zhen Jie / Chiam:
We are glad to have engaged NannySOS for their confinement service. We were so grateful that NannySOS has assigned Zhen Jie to us as our confinement lady. Having a confinement lady definitely makes a tremendous difference as we did not have one during our first child.
Zhen Jie is nothing short of amazing and is highly recommended. She is very experienced and shared lots of knowledge with us. She took really good care of both me and my baby. Even when we brought the baby to the PD for his one week checkup, the PD commented that the baby was really well taken care of. Zhen Jie always ensures both mummy and baby is well fed and allow me to have ample rest so that I can recuperate well.
She is very responsible, organised and planned things well ahead of schedule. When I have a massage session arranged in the morning, she will prepare a lighter breakfast before the session. When I have a doc appt and will be back later for lunch, she will prepare a heavier breakfast so that I won't be hungry so fast. Extremely high situation awareness which is very important as I do not need to tell her what to do.
She also cooks a variety of delicious meals everyday so that I won't get tired of it, and also making sure that I am well-nourished from the meals that she cooks.
My baby is really fuzzy in the middle of the night but she makes sure that she attends to him whenever he fuzz and stay up all night showering him with love and patience. Despite a long night, she still wake up really early to prepare my breakfast on time.
Thank you Zhen Jie for all that u have done (真的是谢谢妳 Zhen Jie). You have been a really great help during this period. We are definitely going to miss you when the confinement period ends. Highly recommended! Thumbs up to Zhen Jie! 👍🏻👍🏻👍🏻
Culinary Skill: Very Good.
Communication Skill: Very Good.
Baby Care Skill: Very Good.
Mummy Care Skill: Very Good.
Cleanliness: Very Good.
Friendliness: Very Good