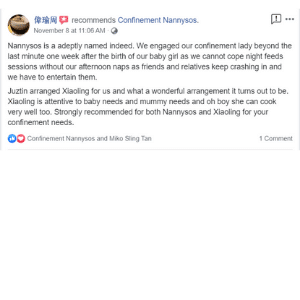 Confinement nanny Review for XiaoLing:
Nannysos is a adeptly named indeed. We engaged our confinement lady beyond the last minute one week after the birth of our baby girl as we cannot cope night feeds sessions without our afternoon naps as friends and relatives keep crashing in and we have to entertain them.
Juztin arranged Xiaoling for us and what a wonderful arrangement it turns out to be. Xiaoling is attentive to baby needs and mummy needs and oh boy she can cook very well too. Strongly recommended for both Nannysos and Xiaoling for your confinement needs.
Culinary Skill: Very Good.
Communication Skill: Very Good.
Baby Care Skill: Very Good.
Mummy Care Skill: Very Good.
Cleanliness: Very Good.
Friendliness: Very Good