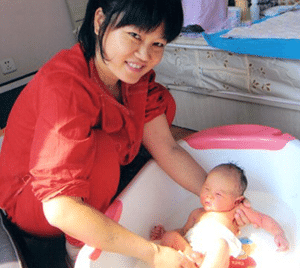 Until your baby's umbilical cord falls off at around two weeks of age, confinement nanny suggest parents should clean your baby with a sponge bath. Start by laying your baby on a towel in a warm room. Keep her covered with a blanket or towel, uncovering as you go only the area you are washing. Use a warm wash cloth and mild baby cleanser and then rinse your baby one area at a time. Use cotton balls soaked in warm water to clean around her eyes. Physicians used to recommend the use of rubbing alcohol to clean her umbilical cord but that practice is no longer deemed necessary by the medical community.
Once the umbilical cord falls off, the confinement nanny can bathe your child in a baby bath. There is little difference between the various baby baths available at most retailers. However, one feature confinement lady loved for bathing baby during those early months was the mesh sling attachment that now comes with some baby bathers. It does most of the cradling for the confinement nannies or parents while keeping the baby suspended in water. Fill the bath with warm water between 33 °C and 36 °C. Confinement nanny sometimes used a rubber ducky with a temperature strip so as to be sure of water's temperature. Place the baby in the bath and use the left hand to hold the baby, while cleaning her with your right. If there is no sling attachment for the bath, one tip from the confinement nanny is use a cradling hold. One arm underneath and supporting the baby's head and neck. Unless you are as experienced as the confinement nanny, parents can use the cradling hold until your body is strong enough to support her neck. Babies only a few months old do not need a daily bath, which is too drying for their skin. During the first few months, you can bathe the babies every two to three days. If your baby has especially dry or sensitive skin, most pediatricians recommend to use moisturizing body wash for sensitive skin. It is available at most stores.
The kitchen sink is a great transition location between an infant bathtub and the full-size bathtub. Once your baby can sit up reliably, you can put her in the sink without a bath accessory. Confinement nanny often put a towel down to cover the drain plug, provide traction, and make a cushy place for the babies to sit. Babies loved this because they had their own little tub complete with a view of the kitchen. Most confinement nannies loved it because the height of the kitchen sink is much easier on the back than leaning over a bathtub to give a bath. Whatever your bathing method or location is, never, never, never leave your baby unattended while bathing. Not even for a moment.