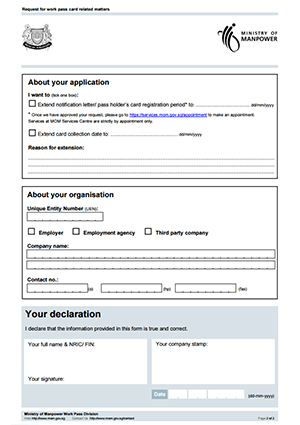 The expiry date of the work permit for confinement nanny is nearing or her employment with you is ending soon. However, due to her outstanding work performance and you require more help beyond the normal 28 days confinement, you would like to extend her permit. nanny's consent or agreement to extend. Here is a list of what you should do to extend her employment service with you:
Discuss and obtain agreement and consent from confinement nanny for extension of her service.
Extend confinement nanny work permit.
Extend confinement nanny's short term visit pass.
How To Extend Confinement Nanny Work Permit
Extension for her work permit and stay can be submitted online to the Work Pass Division for issuance and renewal matters. Here is the step by step guide on how you can extend work permit for your confinement nanny.
Step 1: Login to MOM permit application system as employer: https://www.mom.gov.sg/eservices/services/work-permit-transactions-for-domestic-helpers-and-confinement-nannies.
Step 2: Login with your SingPass and Password and click "Login", followed by your SMS OTP to verify and click "Submit" to proceed to next step.
To extend the short term visit pass of confinement nanny, please prepare the following documents:
Passport of your confinement lady
Disembarkation/Embarkation cards.
Under Employment of Foreign Manpower Work Passes Regulations, any foreigners working in Singapore must fulfill certain criteria in order to be given an authorized pass. It is a regulation by Ministry of Manpower (MOM) to apply work permit for confinement nanny. Medical insurance for confinement nanny is optional but you are encouraged to purchase it from your insurance agent or adviser. Confinement nanny can only be employed for duration up to 16 weeks only. Application fees is $35 but no additional fee is required to extend her permit. The permit levy is also applicable monthly. For guidelines on confinement nanny insurance, fees or how to apply work permit for confinement nanny, please see our article on Confinement Nanny Work Permit Singapore.