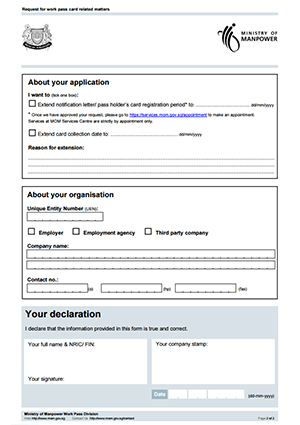 Need to extend confinement nanny but the request for extension of work permit denied? There are a few possible causes which your confinement nanny's stay in Singapore cannot be extended. Confinement nanny work permit extension can only be requested and approved if:
She is still required to provide her service at your home as confinement lady. However, she has went back to Malaysia for certain reasons. Her initial visit pass will be invalid each time she left Singapore custom as it is a single-entry pass. Therefore, your appointed confinement nanny agency or you as the employer is required to renew or apply the extension for her.
The intended employment period is longer than the expiry date of her visit pass and she is required to fulfil her role as a confinement nanny.
How To Extend Confinement Nanny
Extension for her stay can be submitted online to the Work Pass Division for issuance and renewal matters.
The following documents are necessary for the extension approval:
Employer's request letter. Scanned documents or electronic JPG or PDF format is allowed. Please ensure the given information is correct and readable. Otherwise, re-submission of documents is required.
Passport of your confinement lady or her Disembarkation/Embarkation cards.
Confinement Nanny Work Permit Notice of Issuance.
For online submission, document size must not exceed 5MB.
For manual submission by post, the documents need to be addressed to:
Work Pass Division
Ministry of Manpower
18 Havelock Road
Singapore 059764.
Under Employment of Foreign Manpower Work Passes Regulations, any foreigners working in Singapore must fulfil certain criteria in order to be given an authorized pass. It is a regulation by Ministry of Manpower (MOM) to apply work permit for confinement nanny. Medical insurance for confinement nanny is optional but you are encourage to purchase it from your insurance agent or advisor. Confinement nanny can only be employed for duration up to 16 weeks only. Application fees is $30. Confinement work permit levy is also applicable monthly. For guidelines on confinement nanny insurance, fees or how to apply work permit for confinement nanny, please see our article on Confinement Nanny Work Permit Singapore.