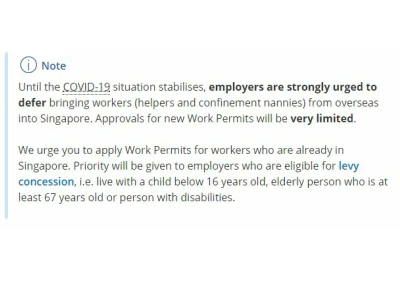 Due to COVID-19 pandemic, work permit approval for confinement nanny during covid in Singapore has been very limited. Confinement nannies who are still in Malaysia are now looking forward to the official announcement for cross-border travel to resume between Malaysia and Singapore. Since 18 March 2020, Malaysia's Movement Control Order (MCO) has restricted domestic and international travel. Singapore had implemented a circuit breaker period from 7 April to 1 June 2020. After 1 June, most economic sectors for Singapore will resume operations in 3 phases and Malaysia's MCO will be in a recovery phase from 10 June to 31 August 2020. Practical measures and precautions are being discussed to enable Malaysians to continue working in Singapore.
Requirements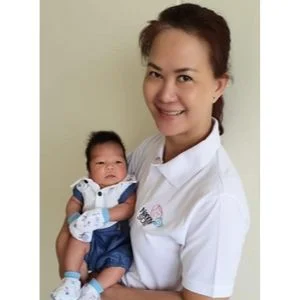 Following the new updates of COVID, all Malaysian confinement nannies entering Singapore from 17 Jun 2020, 23:59 hours, will be subjected to the new Stay-Home Notice (SHN) requirements. They will need to serve SHN at dedicated SHN facility and taking COVID-19 swab tests before they can start take care baby and mummy. Until official announcement, confinement nanny work permit is limited and subjective to approval. All agencies or employers who are engaging freelance confinement nanny during covid will need to ensure she will act responsibly in line with any advisories issued by the Government of Singapore. There are penalties for non-compliance. The confinement nanny should not be arranged to enter Singapore if employer or confinement nanny agency is not willing and unable to fulfill the responsibilities of entry approval and SHN arrangements.
Any employer or employment agency that submitted the nanny's entry approval request must ensure the confinement nanny comply with all the conditions set for the 14 day SHN period. The SHN will commence with immediate effect from the time it is issued to her upon arrival. However, she cannot leave the SHN facility even though she has completed 14 days SHN if she has not obtained the results of the COVID-19 test.
Fees
As the SHN costs is not absorbed, the employer or confinement nanny agency will need to pay for the following :
14-day stay at the dedicated SHN facility ($1,500 including GST)
COVID-19 test (up to $200 including GST)
To/fro transport to the test centre.
Preparation Before Coming To Singapore
Before nanny book her flight or transport, her employer or agency will need to obtain a successful approval for confinement nanny work permit and entry approval letter first. Under MOM's advisory guide, confinement nanny must prepare or have the following before coming to Singapore:
1. Singapore number.
2. WhatsApp.
3. Homer App.
4. Thermometer.
5. Print work permit.
6. Print Entry Approval letter.
7. Submit health declaration via SG Arrival Card within 3 days of arrival date.
What To Expect During SHN
The confinement nanny from Malaysia will travel from the airport or other place of disembarkation directly to her dedicated SHN facility to serve her SHN. Unless there are new changes, there will be a designated transport to drive her directly to the dedicated SHN facility. Upon reaching the SHN facility, she is not to leave the facility during the SHN period unless permitted by the Controller such as going for the Covid-19 test.
Day 1 to Day 14
Keep a lookout for

MOM's SMS sent within 1 to 3 days of the arrival.

Once the SMS is received, download or setup the Homer mobile App

to report location, temperature and health status thrice daily to MOM via the App.

Respond within 1 hour when contacted by MOM via phone calls, WhatsApp video calls or Short Message Service (SMS).

Minimise contact with others during the SHN period.

No visitors allowed at the dedicated SHN facility.

Maintain a record of persons she comes into close contact with during the SHN period.

Undergo COVID-19 test(s) as required by the Government of Singapore before SHN is over. Transport need to be arranged to drive her to the testing facility and back to the SHN facility.
For more details, please check out MOM's advisory guide on COVID-19 precautionary measures for confinement nannies or contact the SHN helpline at 68125555. You can also learn the benefits of hiring a caregiver through our confinement nanny review. Take care and stay safe.