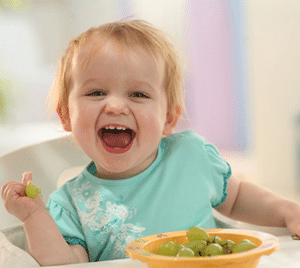 Like many parents, we often wondered if our baby was eating the right amount of food. While every baby is different, the below chart sets forth the average food and liquid consumption during the first year.
It is important to understand just how small a "serving" is for your baby. For vegetables, fruit, and meat, one serving equals only one to three tablespoons, which is not very much. For instance, five cut up green beans is one serving. Many parents are concerned that their baby is not eating enough, because it is easy to forget how much smaller a serving size is for a baby than for a adult.
Do not worry if the amount your baby eats on any particular day varies. Several studies show that the amount babies will typically eat varies by as much as thirty percent from day to day. Like adults, babies have days they are more or less hungry. NannySOS is a confinement nanny agency in Singapore providing confinement care and babysitting services. We are just a call away if you require our services.
2 fruits
2 vegetables
1-2 cereals
1-2 meats
Average Amount of Formula or Breastfeeding
473 to 710ml of formula OR Breastfeeding 8 to 12 times a day
710 to 1065ml of formula OR Breastfeeding 8 to 9 times a day
710 to 1240ml of formula OR Breastfeeding 6 to 9 times a day
830 to 1420ml of formula OR Breastfeeding 6 to 8 times a day
710 to 1065ml of formula OR Breastfeeding 4 to 6 times a day
2 fruits
2 vegetables
2 cereals
1-2 meals
710 to 945ml of formula OR Breastfeeding 3 to 4 times a day