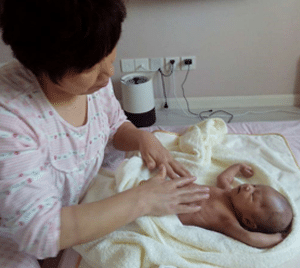 Confinement nanny is an important role to mum and baby. Having a good confinement lady will allow mother to have a better rest and recovery. She should be well versed in child care knowledge. During the service, the confinement nanny must pay attention to personal hygiene, nails and not wearing any jewelry, so as not to scratch the baby. Experienced nannies will usually bring their personal cups, slippers, towels and other daily necessities. Professional nannies will take up baby massage courses to enhance their service.
After mother and baby are transferred to the ward, the nurses will perform breast massage and cleansing before proceeding the breastfeeding process. During postpartum period, if appropriate breast massage is applied, it can greatly help to reduce breast swelling and pain. The following are general knowledge and skills that a good confinement lady must know:
Maternal Care
Guide mothers on breastfeeding and breast care to prevent or heal chapped nipples.
Provides advice on postpartum contractions, lochia observation and ensuring healthy environment for both mum and baby.
Cooking and preparing nutritious confinement meals with a reasonable mixture of meat and vegetables.
Separate hand wash and drying of baby and mummy's clothes.
Practice maternal health care and prevent common diseases of maternity.
Maternal exercises for physical recovery and maternal cervical.
Maternal psychological guidance.
Baby Care
Neonatal feeding, nursing, observation.
Umbilical cord care.
Baby bath, change diapers and baby clothes, baby bedding and neonatal care.
Sterilization of baby supplies.
Observe urine for signs of abnormality.
Know how to handle red hips or diaper rash.
Remind parents of baby vaccination.
Neonatal massage, health care.
Communicate with baby.
Exercise, swimming, expose baby to sun and cognitive training.
Taking note on baby growth and development such as daily measurement of the baby's body temperature and regular measurement of infant height and weight.
Preventive measures of common diseases.
Basic domestic services such as sweeping floor, mopping floor and buying grocery.
NannySOS is a confinement nanny agency singapore that provides chinese or english speaking confinement nanny for expat and locals depending on requirement. We also provide assistance with the application of confinement nanny work permit. If there is a need to extend confinement nanny, we have more information at Confinement Nanny Work Permit Singapore. Happy parenting!