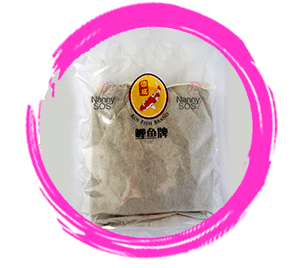 Confinement herbal bath is traditionally used by Asian Chinese women after childbirth such as in Singapore, Malaysia, China, Taiwan, Hong Kong. Based on traditional formula, the herbal bath is not only suitable for women during their confinement or postpartum month but also for individuals who have "wind-related", wind-dampness, body ache discomfort issues. The herbal bath is especially beneficial for mummies who cannot follow the confinement practices of no showering, no washing hair and no contact with cold water after giving birth especially in hot and humid Singapore. In fact, contrary to Chinese confinement myths, it is very important for mothers to bathe in order to observe personal hygiene during the confinement month. The herbs are essential for postnatal mummies recovery as they help to improve blood circulation in meridians, dispel wind, dampness and relieve pain. Otherwise, mummies may suffer from wind-dampness (feng shi) commonly known as rheumatism which can cause intermittent pain that affect the joints or connective tissue as they aged. However, as this is a traditional medicine, anyone with health or skin concerns is advised to consult your pharmacist, doctor, TCM or Traditional Chinese Medicine practitioner first before use as a precaution. There are replacement as well which besides Da Feng Ai (Blumea balsamifera or Sambong), some confinement nannies will use lemongrass instead for mummies to shower.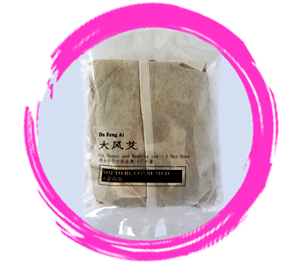 When to Start Bathing with Da Feng Ai Confinement Herbal Bath?
Herbal bath for confinement can be used for shower and washing face.
Normal delivery: Bathe after 7 days.
Caesarean section: Bathe after 10 days.
Price: $80 (28 packets where each packet is for 1 day dose.) Delivery cost is applicable.
How to Use
Recommended Daily Dosage: 1 packet once a day.
Where to buy Confinement Herbal Bath in Singapore?
Confinement herbal bath is inclusive in NannySOS 28 days confinement herbal package. You can also buy herbal bath for confinement separately at $80 from NannySOS estore online, TCM herbal store or medical hall near you etc.
Storage:
Avoid direct sunlight. Keep in cool, dry place below 30°. 
Confinement herbal bath is generally safe for external use. It is not to be consumed. However, as everyone has different body constitution and sensitively, please stop application to consult doctor if you experience any abnormal symptoms.