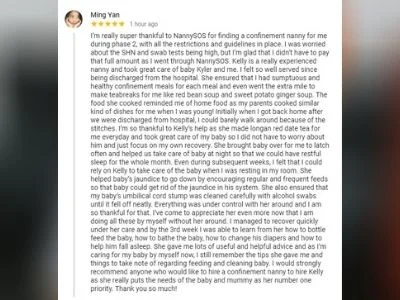 Confinement nanny Review for Kelly:
I'm really super thankful to NannySOS for finding a
confinement nanny
for me during phase 2, with all the restrictions and guidelines in place. I was worried about the
SHN and swab tests
being high, but I'm glad that I didn't have to pay that full amount as I went through NannySOS.
Kelly is a really experienced nanny and took great care of baby Kyler and me. I felt so well served since being discharged from the hospital. She ensured that I had sumptuous and healthy confinement meals for each meal and even went the extra mile to make teabreaks for me like red bean soup and sweet potato ginger soup. The food she cooked reminded me of home food as my parents cooked similar kind of dishes for me when I was young! Initially when I got back home after we were discharged from hospital, I could barely walk around because of the stitches. I'm so thankful to Kelly's help as she made longan red date tea for me everyday and took great care of my baby so I did not have to worry about him and just focus on my own recovery. She brought baby over for me to latch often and helped us take care of baby at night so that we could have restful sleep for the whole month.
Even during subsequent weeks, I felt that I could rely on Kelly to take care of the baby when I was resting in my room. She helped baby's jaundice to go down by encouraging regular and frequent feeds so that baby could get rid of the jaundice in his system. She also ensured that my baby's umbilical cord stump was cleaned carefully with alcohol swabs until it fell off neatly. Everything was under control with her around and I am so thankful for that. I've come to appreciate her even more now that I am doing all these by myself without her around. I managed to recover quickly under her care and by the 3rd week I was able to learn from her how to bottle feed the baby, how to bathe the baby, how to change his diapers and how to help him fall asleep. She gave me lots of useful and helpful advice and as I'm caring for my baby by myself now, I still remember the tips she gave me and things to take note of regarding feeding and cleaning baby.